Artistic Director King is thrilled to be selected as a 2023 Brooklyn Arts Council
​SU-CASA Artist starting the end of February through to end of May! ​
WHO, WHAT, WHY
---
"Our deepest fear is not that we are inadequate. Our deepest fear is that we are powerful beyond measure. It is our light, not our darkness that most frightens us. Your playing small does not serve the world. There is nothing enlightened about shrinking so that other people won't feel insecure around you. We are all meant to shine as children do. It's not just in some of us; it is in everyone. And as we let our own light shine, we unconsciously give other people permission to do the same. As we are liberated from our own fear, our presence automatically liberates others." From the movie, "Coach Carter", (which was co-written by John Gaitins and Mark Schwahn) in response to "What is your biggest fear?" The original passage can be found in its entirety written by Mariann Williamson.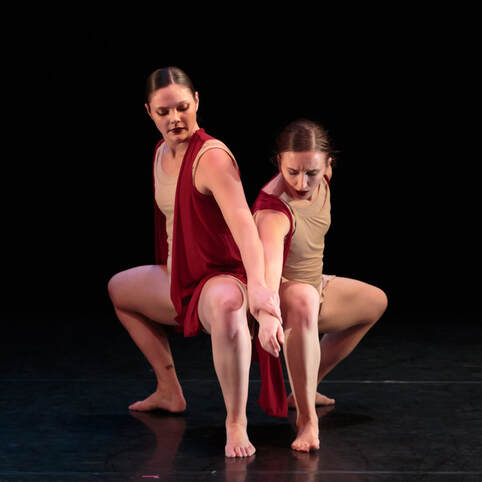 ​
This passage is what I strive to obtain for myself;
what I wish for those who dance with me or view my work.
Choreography that inspires a contemplative dialogue,
stimulates exchange between artist and audience; an outlet
​for expressing differences and finding freedom from fear.
It is a journey I continue to explore
and excited to share with others
.
JK
'King has given the little girls inside us a chance to scream
without uttering a sound, beautiful, breathtakingly beautiful.'
~ Maria Gentile, NYC Singer/Songwriter
​
​
---
Photo by Eric Bandiero, 'per.cept.shun'
---
Joyce King/JKing Dance Company/JKDC,
creating
works that arouse diverse perspectives and awaken a shift in aesthetic values and
emotional influences through the art of dance and storytelling.
JKDC,
founded by Artistic Director Joyce King, is an all-female dance ensemble based in Brooklyn, NY. Our innovative repertory, presented at over 30 venues, features JKDC dancers' athleticism, versatility, and compassion. We address delicate topics and preconceived ideas to awaken a shift in aesthetic values and emotional influences through stories - some metaphoric, some literal, intermingling human behavior with ballet, jazz, modern, and acting. We comprehend life's complexities in their simplest form, building cultural bridges to encourage dialogue and explore personal experiences and events that shake our social world.
JKDC PERFORMANCE HISTORY
Green Space/Take Root - split bill, JCAL - 'Connections' Black Box, Making Moves Dance Festival - Main Stage, Dance Bloc Festival, Underground Movement/ Vol.5 Union St. Dance, Alpha Omega-STUDIO to Stage, BLM -A Collaboration Series of Dance & Conversation- virtual, passing pose I & II - virtual, APAP NY-Jazz at Lincoln Center/Booking Dance, APAP NY-Ailey Studio Theater-Construction Company Portfolio, MMAC, Salvatore Capezio Theater, Brooklyn Dance Festival, The TANK, JCE -Tribute to Jazz Legend Luigi, WHITE WAVE DUMBO/COOL NY, Jazz Choreography Enterprises Anniversary Celebration, WAX, PMT Performance Series, YourMove, DIXON Place, STH Winter Follies, The HATCH/Muller Series, Tribeca Performing Arts-Guest Artists/DW, NYC Children Museum of Arts. JKDC toured King's choreography as part of Grounds for Sculpture, Your Move Dance Festival, Boston Contemporary Dance Festival, Massachusetts Dance Festival, Elgin Ties Dance Festival-IL, Southern VT Dance Festival, and HIGH FEST International Performing Arts Festival-Armenia.
Self-produced performances include The Ailey Citigroup Theater, NYC (2012 - 2015) and The James & Martha Duffy Performance Space, Brooklyn (2019). Within these performances and the 2020-virtual workshops/showcases(such as Teen -passing pose III), King also provided young emerging dancers/choreographers the opportunities to join JKDC artists on stage and in rehearsal.
---
​RECIPIENT of

​2023 Brooklyn Arts Council SU-CASA Artist

*2021 - 2022 Mertz - Gilmore Foundation -Union St. Dance - AIR - September 2021/ January - March 2022

*2021

DOWNTOWN Brooklyn Rehearsal Residency Initiative - June and September

*2021 STUDIO to STAGE -
Alpha Omega Theatrical Dance(revised from 2020)

*2020 Creative Residency Grant-
Spoke the Hub

*2018 CUNY Dance Initiative -
​ Residency Program - Brooklyn College ​
---
​​JOYCE KING/ JKING DANCE COMPANY NEWSLETTER SUBSCRIBE